21 Mar

Aftercare

One of our most frequently asked questions 1-2 days post procedure : My brows are DARK, is this normal? The short answer (unfortunately): yes, yes it is.
MY BROWS ARE DARK ... is this normal?!?
The initial session is only about 10% of the entire experience. In total, it takes approximately 30-60 days for the skin to heal and color to settle. Be patient. We promise the color will soften and appear more natural as healing progresses. Any cosmetic tattoo procedure whether its microblading, lip blush, or freckles, creates a wound to the skin, as such it is normal to experience peeling, scabbing, itching, and fading of pigment.
White Rabbit Studios artists go through the aftercare instructions and what to expect during your appointment. It is important to follow these instructions to achieve the best possible results from your cosmetic tattoo procedure.
Here is everything you need to know about the aftercare routine.
DAY 1-7
Wash the area twice per day followed by applying the aftercare ointment.
Wash the area with a mild antibacterial soap (we recommend Cetaphil) + water using a gentle circular motion.
Dry the area by blotting it with a clean paper towel.
Apply a rice-grain sized amount of aftercare ointment using clean cotton swab. Do not apply ointment unless the area is dry.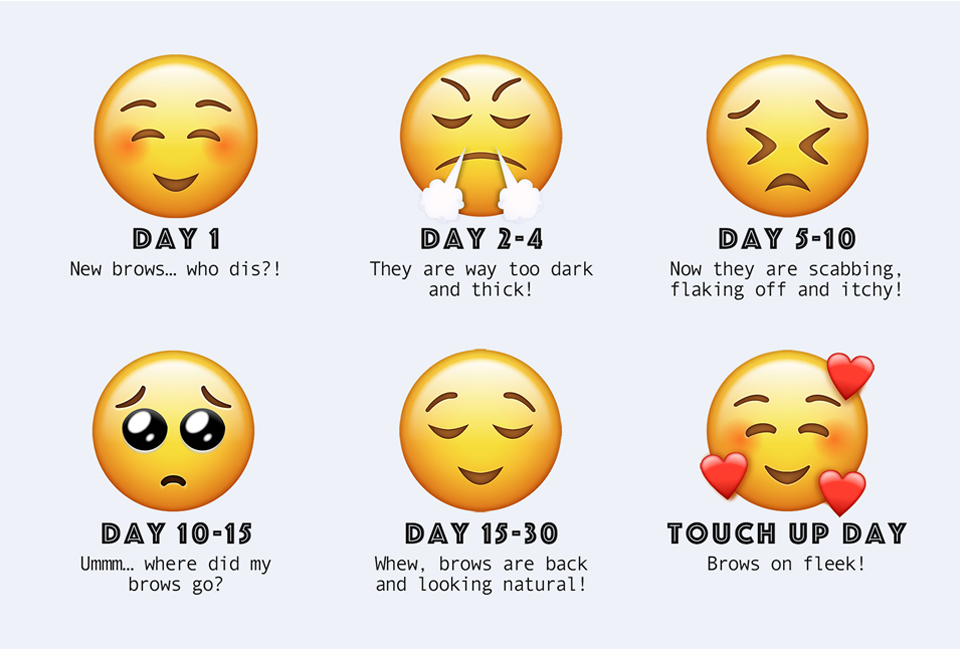 THINGS TO AVOID
It is critical to avoid the following for 14 days after your procedure.
Touching area except when washing or applying aftercare ointment
Scratching, picking, or peeling, as it can cause scarring and/or color loss
Applying makeup, moisturizer, lotion, or sunscreen
Sun exposure – sun tanning – salon tanning
Steam – hot baths or showers – jacuzzis – sauna
Sweat – exercise and any other activities that induce perspiration
Laser or chemical peels, and any creams containing retinol or glycolic acid